Virginia Home Grown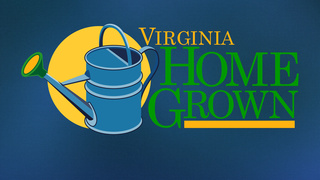 Host, Amy Barton Williams, and Co-Host, Peggy M. Singlemann, interview experts and enthusiasts from around the state. The program airs monthly from March through October.
Latest Episode
Urban Habitat; Grapes & Viticulture (#1406)
Pollocks Path & Meadows; grape growing operation; vertical gardening; Black Chokeberry
Get a head start on repairing the damage done to your lawn by the summer heat. Treat unwanted weeds and weedy grasses in your lawn with a herbicide containing glyphosate. If it doesn't rain for two or three days after treating, water the area to insure the herbicide is cycling through the system of the plant. In approximately seven days the weeds will be dead and you'll be able to plant new grass seed in their place.
In this episode of Virginia Home Grown, Amy explores Pollocks Path and Meadows at the IX Art Park in Charlottesville. We'll get a tour of an Urban Habitat created by the Center for Urban Habitats. Carol Heiser with the Virginia Department of Game and Inland Fisheries will be our in-studio guest.
Sharpen your lawn mower blade, or have it sharpened. A full summer of regular mowing will dull even the best mower blades. Often replacing the blade is a better alternative to sharpening as we head into the fall mowing season. A sharp blade produces a cleaner cut and is less damaging to grass plants.
Be sure to read Richard's weekly Garden Q & A in the Saturday Home Section of the Richmond Times-Dispatch.