Virginia Home Grown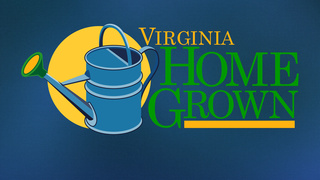 Host, Amy Barton Williams, and Co-Host, Peggy M. Singlemann, interview experts and enthusiasts from around the state. The program airs monthly from March through October.
Latest Episode
Fall Interest; Plant More Plants Program; Clumping Bamboo
Learn how to brighten the fall landscape. The 2nd segment features "Plant More Plants."
Plant your spring vegetable garden. Early March is the ideal time to plant hardy crops such as peas, spinach, broccoli, kale, onion sets, radish and lettuce. These plants will thrive in typical March cold and will provide fresh vegetables for harvest before summer.
By late February, the new leaf buds are just starting to grow. When these small buds get at least 1/4 inch long that's the signal to begin pruning. Make pruning cuts on a slight angle and just above an outside bud. This will encourage the plant to open up and allow for good light and air movement. Bush roses can be cut back to 2 to 3 feet in height and climbers can be cut to 5 or 6 feet.
Be sure to read Richard's weekly Garden Q & A in the Saturday Home Section of the Richmond Times-Dispatch.
Prune apple, peach and cherry trees while they're still dormant. With buds just beginning to swell, remove unwanted wood before treating with dormant oil for early season pest control.